You can use any cracked minecraft for your own serverIf you don't have one then I recommend you to download
http://mineshafter.appspot.com/
Requirements for mineshaft:
Java
Gmail account
Minecraft acc paid or not paid
1.Click login and log into your gmail account2.Click approve then hover your mouse to settings3.Click change(beside User) and type in your minecraft acc's user and pass(its safe 101%)4.Download Mineshafter proxy for playersTo run minecraft/mineshafter you must load Mineshaft proxies then log into your acc(not the one that says minecraft.jar or something)You probably do have java since you play rs and has RSBot -.-Okay time to talk about Hamachi1.Register an account on logmein2.Download this
https://secure.logme...i/download.aspx
I downloaded the managed one3.Install then go to create a new network type in what you want your server's name to beIf you want to not have a pass then just Right click your network and untick require a pass in the set access thing not sure if you can do it directly though but thats how I did mine4.There should be a lot of numbers beside the yellow power button click it then press copy IPv4 address(very important)And now you must make another choice
if you want plugins download the Craftbukkit
CRAFTBUKKIT WAY
1.
http://dl.bukkit.org...craftbukkit.jar
the craftbukkit! Its a little hard setting it up but its worth it2. Make a new folder(name it Craftbukkit or something) and drag the jar file into it after you're done3.Click the jar file then it should load until it looks like this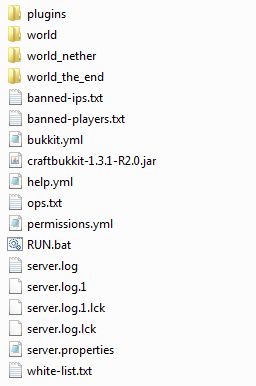 Except you wont have the run.bat but you'll have it later4.Open notepad and paste this in
@ECHO OFF
SET BINDIR=%~dp0
CD /D "%BINDIR%"
"%ProgramFiles%\Java\jre7\bin\java.***" -Xmx1024M -Xms1024M -jar
craftbukkit-1.3.1-R2.0
.jar
PAUSE
But if you are running java in 32bit on a 64bit machine change %ProgramFiles% to %ProgramFiles(x86)%
And if you're running java6 change it to jre6
5.Save it as run.bat like anything that ends with .bat
If you're running a linux or Mac read this
http://wiki.bukkit.o...ing_up_a_server
but whenever you see craftbukkit.jar change it to craftbukkit-1.3.1-R2.0.jarAnd if you want to install plugins just go to plugins.bukkit.org and download them and then place it into the plugins folderYou must now edit the server's properties which you can't open at first but you can open it with notepad1.Find server-IP and paste your IPv4 address in there like thisserver-ip=5.14.70.75(my hamachi address lol)2.Find online-mode and make sure you delete true and replace it with false(or else the server will kick you out)And you're done!Just press run.bat and make sure hamachi is green then it should work
MINECRAFT SERVER WAY
Go to minecraft.net/downloads and download the minecraft server thing1.Press Minecraft_server and after its done loading make sure you type out stop in the command thing2.Edit the server properties(read above for the tut)Then do the same thing lol open minecraft server and hamachi :3You can't add plugins to this oneI think I am done with this...It took me 30 minutes to write this